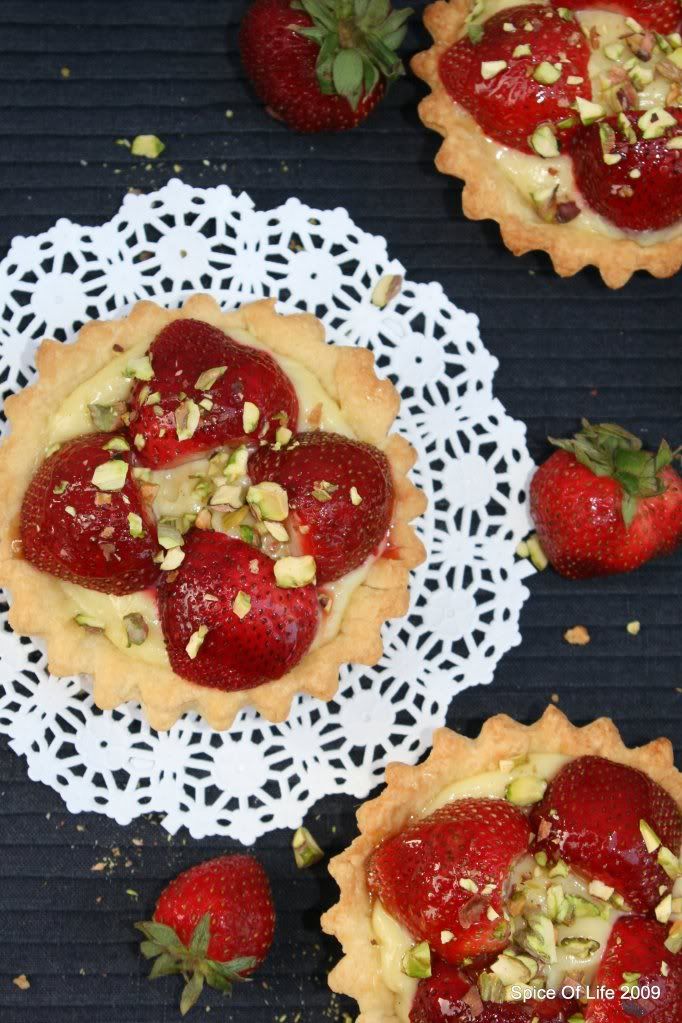 I am back!

It's been a while since my last post. I know, I know… this blog went into hibernation for almost 2 months. It was never my intention to neglect you guys, but it was a case of the spirit-being-willing-but-the-body-is-weak for me.

It has really been so hot these past few weeks here in Miami. After the initial rainy season as the summer began, the heat came with vengeance! We have been averaging 90+ degrees here everyday, with some days even up to the 100's. Talk about being hot and humid!

The heat sucks up all my energy, it seems, that at the end of the day, I barely have enough left to get through dinner. I'm pretty sure that the heat has affected my brain as well, and has caused the creative side of it to go into its sleep-mode. Hence, the lack of inspiration to blog.

The truth is, I've also been busy. Last month, we went on a road trip to visit Mr. J's family in Ohio. Yep, we drove from Miami to Akron. It was a long drive, but we enjoyed every bit of that adventure. The best thing about driving is being able to do everything at our own pace. We stopped where we wanted to and even did some things that were totally unplannned! I used to not like doing anything not planned, but in the few years that I've been married, I've learned to be flexible. Thanks to Mr. J who taught me how to relax (that means, to do away with planning once in a while) and just enjoy. Spontaneity does bring good surprises -at times- wouldn't you agree?




Growing up in the tropics, it seemed that we have summer all year long - we can practically swim almost the whole year round! In my early teenage years, we lived in an area where the beach was just a few minutes away. My father loved to go snorkeling, so we were at the beach almost every weekend! Can you imagine how dark I got as a young girl?

I have so much memories of our countless family beach outings. Thinking about those times never fail to make me smile.

Just like the berries that abound in summer. They make me smile too.

Another reason why I love this time of the year -- berries. There's the strawberries, raspberries, blackberries, blueberries, black currants, cherries - you name it, I love them all. (here in Florida, the strawberry season comes a bit earlier, but at this time, we still enjoy the strawberries coming from the other parts of the country.)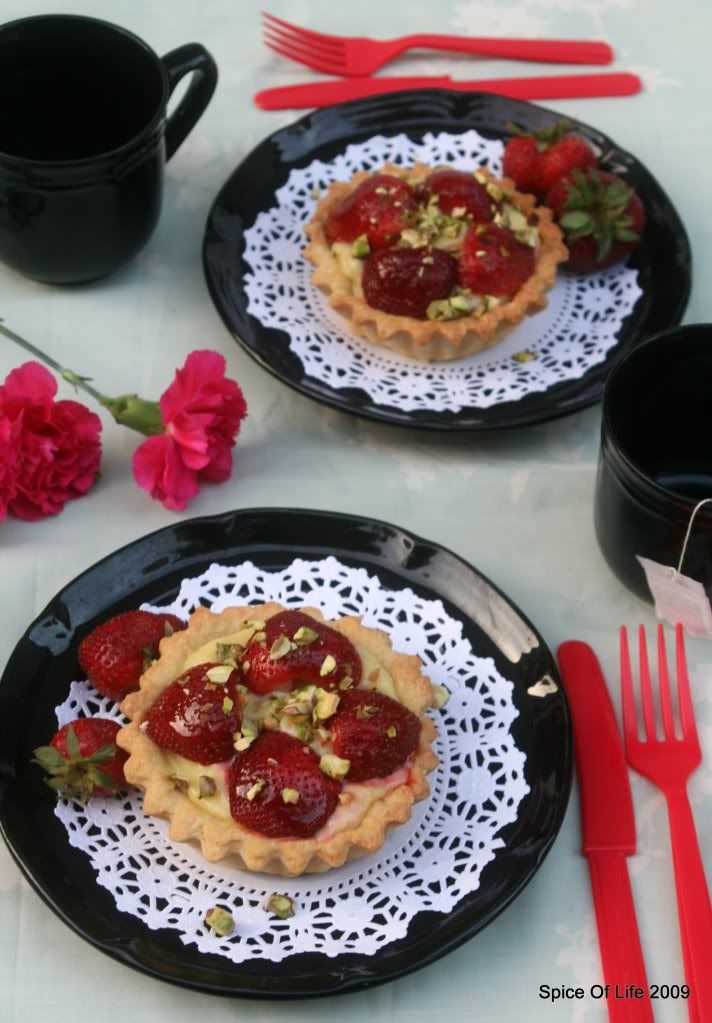 I enjoy the berries eaten as is, but I equally love them on desserts as well.

So, here's a classic "strawberry-licious" tart which I've done a few weeks ago. To make this tart extra special, I made the pie crust as well. If you don't have time to make the pie crust, you can use the store-bought ones by all means. Making the crust requires a bit of effort, yes, but it is definitely well worth doing if you can.


Sharing this tart to Lasang Pinoy Sunday (La.PiS)– Crusty – for a flaky, perfect pie crust.

Have lots of fun family get-aways and memories in summer!


Strawberry Tarts
Ina Garten, Barefoot in Paris

1 1/4 cups all-purpose flour
3 tablespoons sugar
1/2 teaspoon kosher salt
6 tablespoons (3/4 stick) cold unsalted butter, diced
2 tablespoons cold shortening (recommended: Crisco)
1/4 cup ice water
2 cups Pastry Cream, recipe follows
2 pints whole strawberries, hulled and halved
1/3 cup apricot jelly
3 tablespoons shelled pistachios, halved, optional

Combine the flour, sugar, and salt in a small bowl and place in the freezer for 30 minutes. Put the flour mixture in the bowl of a food processor fitted with a steel blade. Add the butter and shortening and pulse about 10 times, or until the butter is in the size of peas. Add the ice water and process until the dough comes together. Dump on a well-floured board and form into a disk. Wrap in plastic and chill for at least 30 minutes.

Meanwhile, preheat the oven to 375 degrees F.

Roll out the dough and fit into 4 (4 1/2-inch) tart pans with removable sides. Don't stretch the dough when placing it in the pans or it will shrink during baking. Cut off the excess by rolling the pin across the top of each pan. Line the tart shells with a piece of buttered aluminum foil, butter side down, and fill them with dried beans or rice. Bake for 10 minutes. Remove the beans and foil, prick the bottom of the shells all over with a fork, and bake for another 15 to 20 minutes until lightly browned. Set aside to cool.

Before serving, fill the tart shells with the pastry cream. Arrange the berries decoratively on top of the cream. Melt the apricot jelly with 1 teaspoon of water and brush the top of the tarts. Sprinkle with pistachios, if using, and serve.

Pastry Cream:
5 extra-large egg yolks, room temperature
3/4 cup sugar
3 tablespoons cornstarch
1 1/2 cups scalded milk
1/2 teaspoon pure vanilla extract
1 teaspoon Cognac
1 tablespoon unsalted butter
1 tablespoon heavy cream

In the bowl of an electric mixer fitted with the paddle attachment, beat the egg yolks and sugar on medium-high speed for 4 minutes, or until very thick. Reduce to low speed, and add the cornstarch.

With the mixer still on low, slowly pour the hot milk into the egg mixture. Pour the mixture into a medium saucepan and cook over low heat, stirring constantly with a wooden spoon, until the mixture thickens, 5 to 7 minutes. Don't be alarmed when the custard comes to a boil and appears to curdle; switch to a whisk and beat vigorously. Cook, whisking constantly, for another 2 minutes; the custard will come together and become very thick, like pudding. Stir in the vanilla, Cognac, butter, and heavy cream. Pour the custard through a sieve into a bowl. Place plastic wrap directly on the custard and refrigerate until cold.