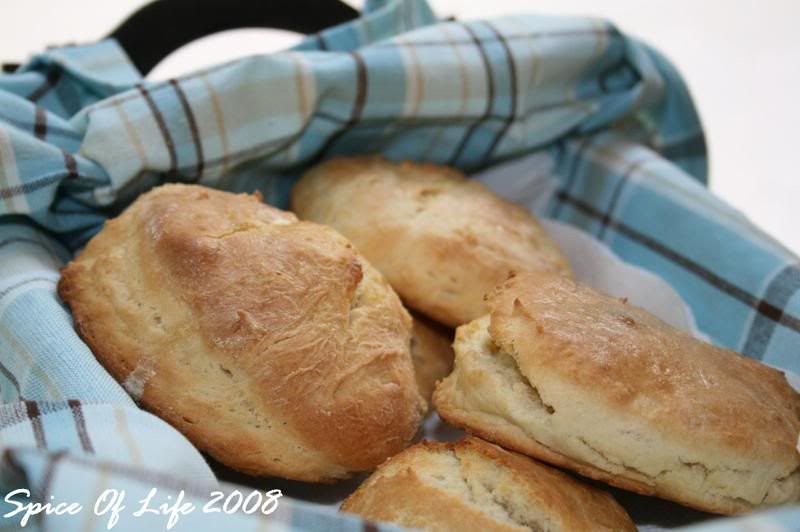 Here's a personal confession.

In the Philippines, biscuit or "biskwit" means, soda crackers, or crunchy cookies. Thus, naturally, I grew up believing that biscuit means the same in the US or elsewhere in the world. But little did I know that though it is spelled the same, outside of the Philippines, the word doesn't necessarily mean the same thing.

So when a franchise of Texas Chicken opened in one of the big malls in Cebu, the city in central Philippines where I come from, I was surprised to read that the menu includes: "2 pcs chicken with biscuit". Hmnn... I thought, "soda crackers with chicken? That's interesting!". So I made it a point to try, and when I did, I discovered that "biscuit" is actually a soft, round bread! And it tastes good too! That , ladies and gentlemen, was my first introduction of what "biscuit" in the western world is supposed to be.

Now that I'm based in the US, I've also discovered that what rice is to us Filipinos, is bread to the Americans. Americans (and Europeans as well)are major bread eaters, and would eat bread with everything. That's how Filipinos are too, with rice.

Well, I may have eaten countless biscuits since moving to the U.S., but I can never forget that very first biscuit encounter that I had in Cebu. That biscuit had a little honey on top that made it a bit sweeter... And to this day, that's how I like my biscuit... with a little honey and butter, reminiscent of my very first taste of this little yummy bread.

The biscuit recipe I have here is simple. The buttermilk makes this traditional Southern specialty especially light and tender. The recipe is supposed to make 12 biscuits, but since I used a 5-in cookie cutter which is slightly bigger than the usual size, I only made 8 pcs.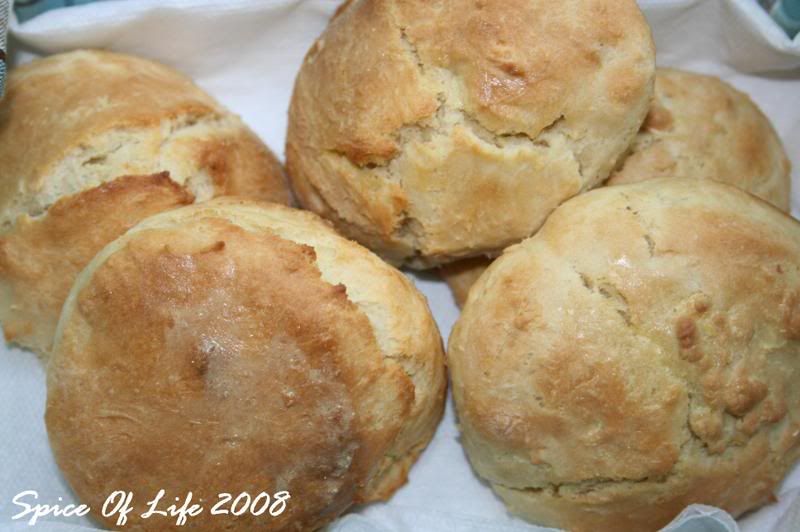 Buttermilk Biscuits
2 cups all purpose flour
1 tbsp baking powder
3/4 tsp salt
1/2 tsp baking soda
5 tbsp chilled butter (or solid vegetable shortening)
1 cup buttermilk

1. Pre-heat oven to 425 degrees F.
2. In a large bowl, sift together flour, baking powder, salt and baking soda.
3. Using a pastry blenderor 2 knives, cut the shortening into the flour mixture until coarse crumbs form. (or you can do this in the food processor too)
4. Turn dough out onto a lightly floured surface. Gather into a disk. Knead lightly a few times just until smooth. (Dough can be made up to 2 hrs ahead, wrapped in plastic wrap and refrigerated until ready to use)
5. Pat the dough to 3/4-in thick. Using a biscuit cuttter or a glass dipped in flour, cut out biscuits. Place the biscuits, 2 in apart, on an ungreased baking sheet. Gather dough trimmings, pat to 3/4-in thick and cut out more biscuits.
5. Bake the biscuits 12-15 mins, or until golden brown. Serve hot.

NOTE:
For flaky biscuits, take care not to overhandle the dough. For less waste and speedier preparation, pat the dough into a square form, then cut into square shapes with a floured knife.