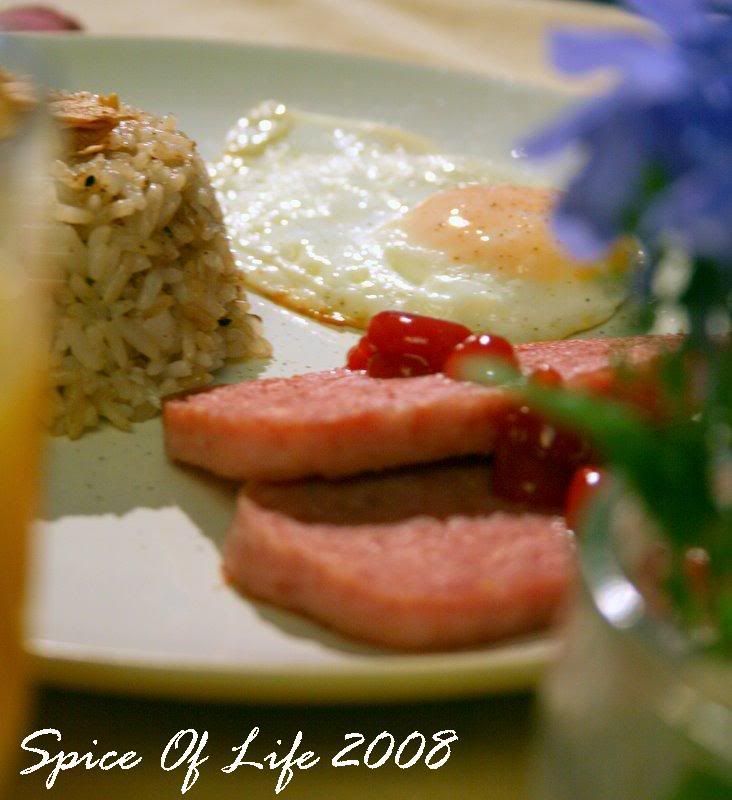 Finally, I made it. I'm posting my very first regular blog after so many weeks of being away. Many of you know that I've traveled back to the beloved country where I originally come from, the Philippines. I was there for 5 weeks. My father had an emergency issue with his health that needed to be dealt with. His right leg had to be amputated asap, due to a gangrenous wound that had not healed for 9 months. We were trying to avoid losing my father's limb, but in the end, it was still necessary, as the infection was growing and spreading fast. That's why I had to be home for the operation to support my father. My mom passed away of breast cancer just last year. And I am an only child, so it goes without saying that I am the only one my father has to lean on for support (no pun intended).

Anyhow, now that I'm back home in the U.S. with my dear husband, I can only hope and pray that no other emergency concerning my father's health will take place ever again. It is not only financially challenging, but emotionally trying as well. I can only take so much of those!

In the meantime, I am happy to share with you that my father is doing much better and is getting stronger by the day. Thank God.

I was hoping to be able to get back on blogging immediately after I came back from my trip, but between the jet-lag and work, it was just physically impossible. And honestly, I lost my blogging "mojo" for a while due to my exhausted mind and body. But not to worry, I am slowly recovering.. and pretty soon, I will be prolific again! Promise!



Today, I would like to share with you my breakfast, reminiscent to the ones I had while growing up in the Philippines.

A traditional Filipino breakfast is a full meal with rice, usually fried rice. Some years ago, a TV comedy sitcom coined the term tapsilog - which refers to a breakfast combination of tapa (cured beef), sinangag (fried rice) and itlog (fried egg). This is a typical Filipino breakfast, but it was the show's "slang" that ignited its popularity, so much so that restaurants and even fast food chains have included these combo type breakfast meals in their menu. Since then, tapsilog has spawned so many other dishes (or slang terms, I should say) such as tocilog, (with tocino, the Filipino's version for bacon); longsilog (with longganisa, the Filipino breakfast sausage); and yes, spamsilog, (with SPAM, obviously) - all with fried rice and eggs.

SPAM is a favorite luncheon meat in the Philippines, but not enjoyed all too often because it is an imported stuff therefore, more expensive than local brands.

Anyhow, here's my spamsilog. I'm so proud to say that while Mr. J doesn't count Spam as a favorite, but he willingly partakes of it with me every once in a while! I'd say that's love, huh? :oD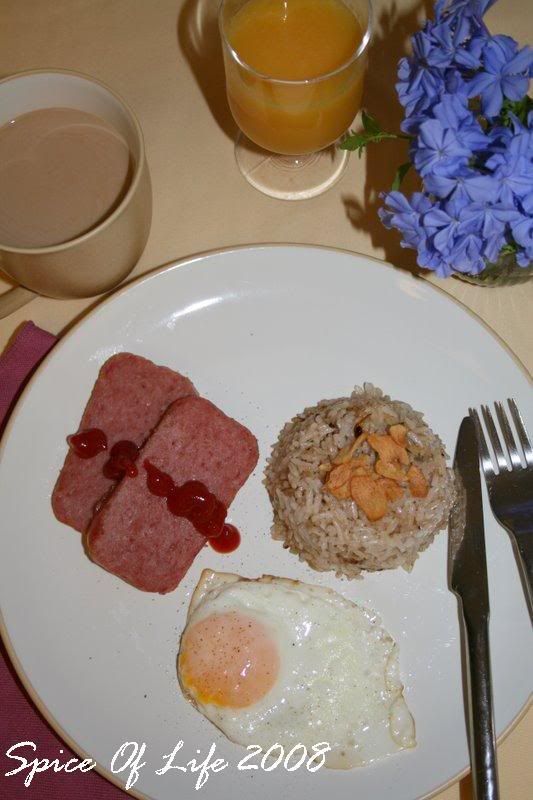 This breaksfast is an easy one to prepare. For the spam, it is basically ready to eat so I just warmed it up a bit in the skillet. The eggs you can have however you prefer 'em --fried, scrambled, overeasy.. it doesn't matter. The only thing I really had to cook was the garlic fried rice, which I topped with garlic chips that I had gotten from the Philippines. Talk about garlic breath and all! You can bet no witch came near our house that day!

For the fried rice, it is best to use left-over rice. Don't use freshly cooked rice, as your rice will come out mushy. Make sure to separate the rice; I find that the easiest and best way to do this is to use your finger and work them through the rice to break the lumps. Lumpy fried rice is un-appetizing. Then make sure that your skillet/wok is hot.Just let your palm hover about 6" high over the skillet/wok, and when you feel the heat, then you're ready to start. And be ready to do everything quickly.

Sending a serving of this Spamsilog to
Ces of SpiCes
, as my entry to this weeks's
Lasang Pinoy Sunday Edition
#25.




Garlic Fried Rice


2 tbsp vegetable oil
2 c rice (see instructions above)
2 cloves garlic, minced
1 tsp soy sauce (opitonal)
freshly ground black pepper, to taste
fried garlic chips, for garnish

1. Set your skillet/work to high heat. When it's hot enough (see instructions above), add the vegetable oil.
2. Then add your rice. Stir the rice continously for about 3 mins. All you are doing is warming through the rice. Add more vegetable oil if you think your rice is dry.
3. Then add the garlic, followed by the soy sauce and pepper. Stir for 1 more minute.
4. Turn off the heat. Serve topped with garlic chips, if you like.