I have an impulsive nature. I always have ever since I was young. But I have to admit that with age comes restraint (I'd rather call it wisdom though). I'd like to believe that since I am now much wiser, hence I'm less impulsive.

Well, this blog is a result of such impulse. I didn't plan on having a food blog, never thought of having one ever before in my life – although to be honest, I had already been browsing other food blogs for recipes and inspiration. But one day after entertaining some friends in the house, I wanted to take a picture of my husband's creations, thus, the thought of starting my own food blog came to mind… and I acted out on it immediately.

And so, Spice Of Life was born in cyberspace around this time last year. Wow. Time indeed passes by so quickly. This is one of those rare times that my impulse yielded some positive results.




I am truly thankful that I have this blog. Despite the dedication and the hours that it requires, I do love sharing my passion with you. This blog had opened a whole new dimension of culinary exchange for me and have allowed me to meet some of the most talented, creative, fun and kindhearted people from all over the world. Albeit these friendships are virtual, nevertheless I feel that sharing a common love and interest in food and food photography have somehow forged a bond among us.

So, to all those who faithfully visit and for those who are just checking this blog out for the first time – THANK YOU. I do hope you'll continue to come, and I look forward to learning from you in as much as I hope that somehow, I've inspired you to cook your meals at home through this blog.

To celebrate my blog's 1st birthday, I've decided to do a recipe that's from one of the most favorite food blog that I visit regularly –
Bea of La Tartine Gourmande
. I distinctly remember this particular dish of hers, because I was attracted to its vibrant colors, not to mention that I love Tuna. It is a very pretty and nutritious dish…. and did I tell you that I love tuna? :o)

So to celebrate my bloganniversary, I have created Bea's
Mustard-flavored Tuna and Veggie
Tartlets
.

The only minor thing I did to the recipe was to change up the flours. Her's is a gluten-free version but since I have no gluten problem, I decided to use ½ cup wheat flour instead of quinoa, and ½ cup teff instead of millet flour. Thus, my crust came out darker than hers.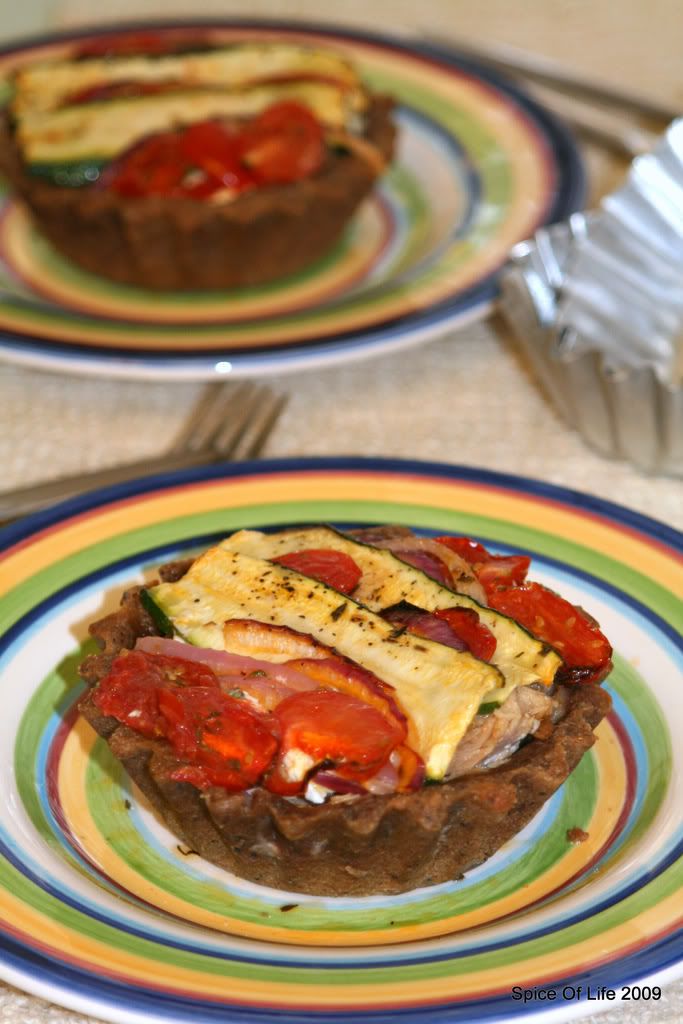 This is a very filling but healthy dish. I especially like the fact that you get the crust, tuna, cheese and veggies all in one bite! I'm glad that I tried this. If you want to, check out the recipe
here
Bea
, I hope that I've done justice to your beautiful creation.

I am also serving this dish to the

Lasang Pinoy: Tri-colore

. The three colors here being the green from the zucchini, red from the tomatoes and white from the cheese.
Lasang Pinoy (La.Pi.S.) is a weekly thematic food photography meme, Filipino style.