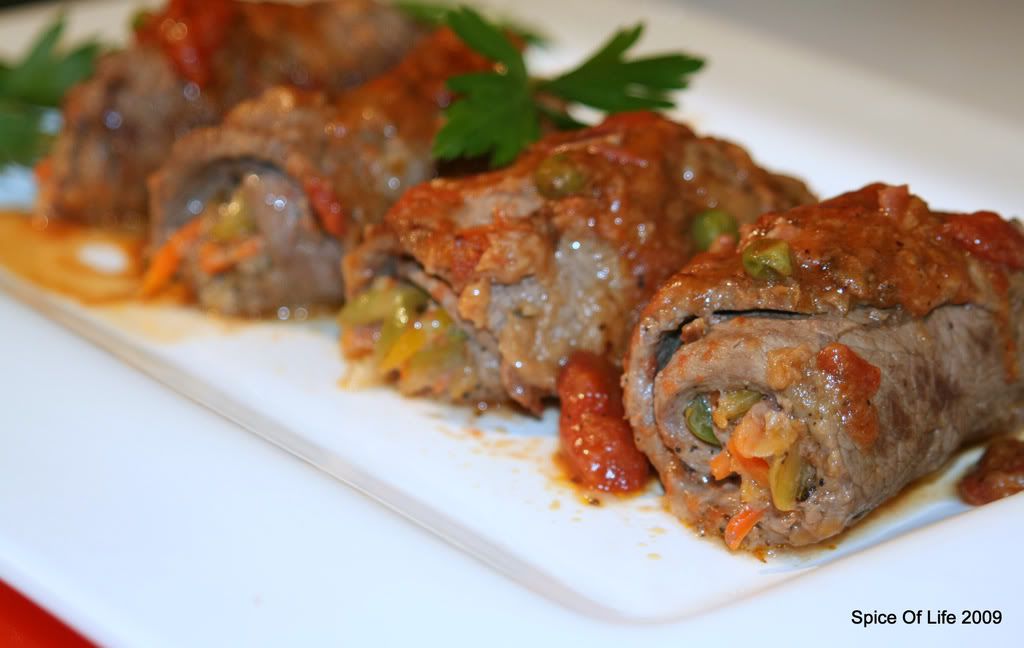 The South Beach Food and Wine Festival is going on right now even as I write this... and I couldn't go. I'm absolutely bummed out.

It is a 4-day festival taking place by the beach (U.S.'s Riviera, South Beach) which showcases the amazing talents of the world's most renowned wine makers, celebrated chefs and culinary personalities. It's the ultimate event to go for foodies and foodies at heart!

The truth is, it's not so much as I couldn't but that I didn't go - for valid reasons. The tickets for this event are a little expensive. With how the economy is going nowadays, it just doesn't seem right for me to be spending between $200-$400 (for the events I wanted to attend). Arrgghhh!!! I so wanted to go. A part of me is screaming and kicking like a child; but the wise part of me hushed the child down :oD While the experience and fun of meeting all those celebrity chefs whom I admire is arguably worth it, but fact remains - my going isn't a real need. It is just a want; something that I can do away with, or at least, put off for now. If there's any time to spend wisely, it is now. Besides, there's always next year, right?

This festival is definitely an item in my bucket list, so I have to go even for just once. I do hope things will work out for me next time. Till then, I am keeping my fingers crossed, and praying that the economy will take a better turn in the next months to come.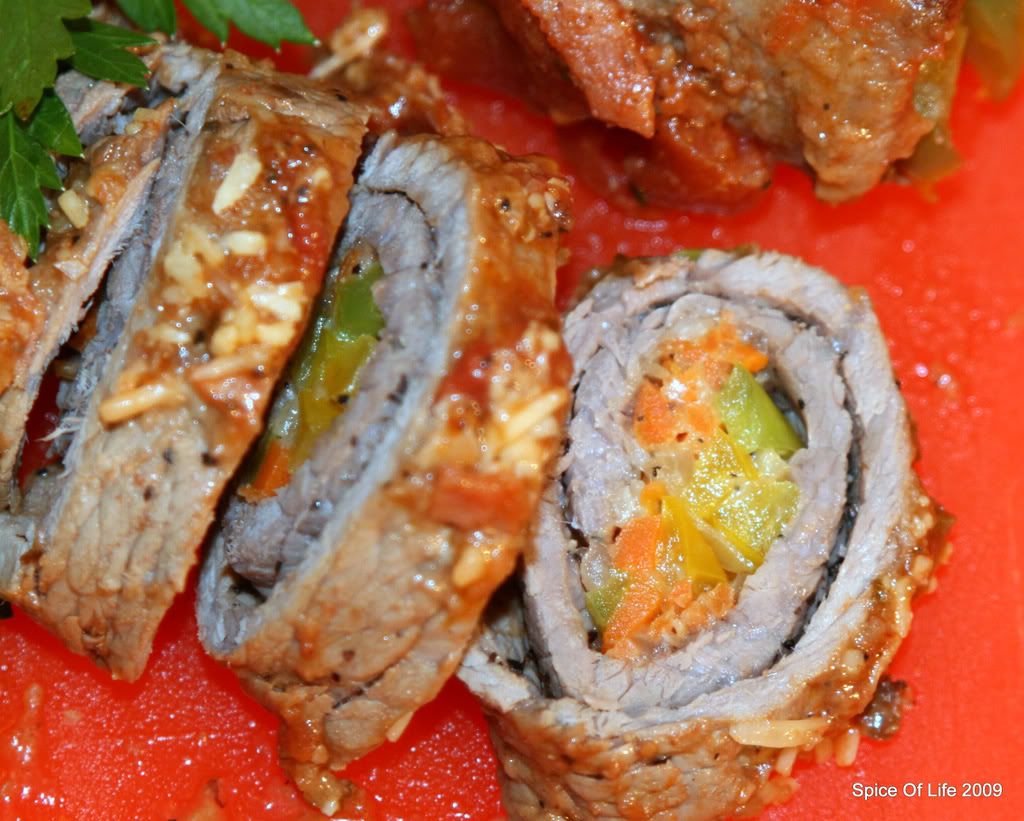 I don't know about you but good food always lifts me up. And since I needed cheering up, I thought that this dish, Involtini Of Beef (or beef roll-ups), would do the trick. It is pleasing to the eye and tastes fantastic! What's more, it is not at all complicated to do. I actually find this quicker to do than, say, lasagna.

If you've been visiting this blog often, you'd notice that my recipes are simple and easy to do. So this dish is right up my alley. Much as I'd like to cook, but I don't want to be spending too much time in the kitchen and not have enough time left to spend with my loved ones. The latter is important too, you know.

I made this for Mr. J for his birthday and he totally liked it. This dish may be simple, but it obviously requires some effort (and love) and the end product is special -- very elegant.

So go ahead and try this dish. As Ingrid Hoffman says, "If I can do it, you can do it!".


I am sharing this dish to

Lasang Pinoy Sundays (La.Pi.S)

: EATS A WRAP!. Lasang Pinoy is a weekly food photography meme, hosted by

SpiCes

.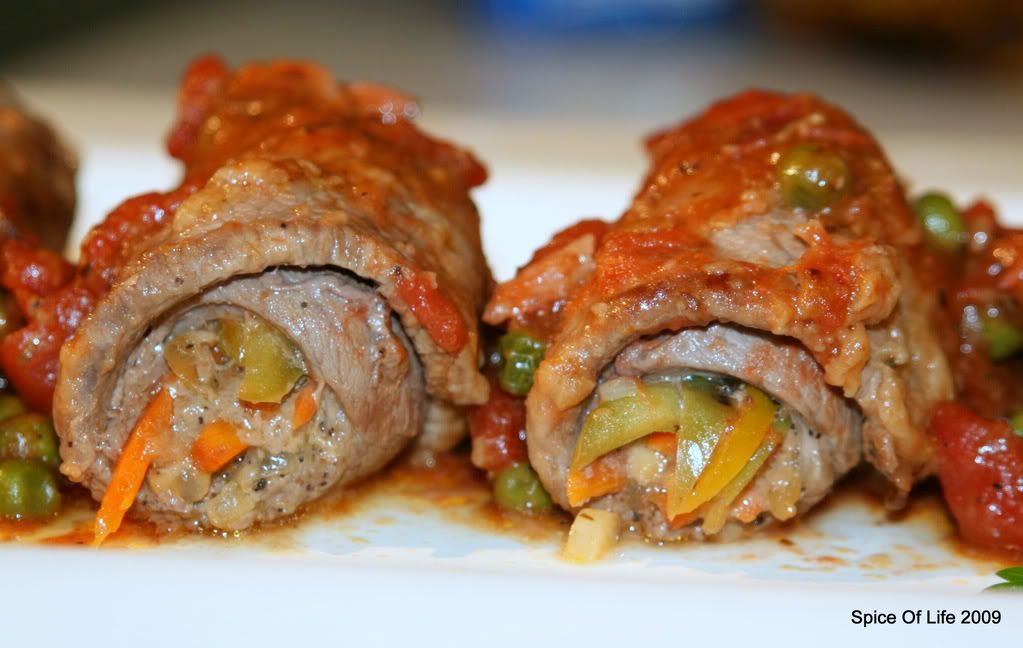 Involtini Of Beef
(Adapted from Giada De Laurentiis)

1/4 cup olive oil
2 tablespoons unsalted butter
1/2 cups carrots, julienned (cut into thin strips)
1/2 cup red or yellow bell pepper (cut into thin strips)
1/2 cup zucchini (cut into thin strips)
1 cup finely chopped onion
2 cloves garlic, minced
1/3 cup freshly grated Parmesan
Salt and freshly ground black pepper
8 (3 to 4-ounces each) beef scaloppini (from London Broil or Top Sirloin)
All-purpose flour, for dredging
1/2 cup dry white wine

*


1 bay leaf
1 (14 1/2-ounce) can diced tomatoes
1/4 cup frozen peas
1-ounce thinly sliced prosciutto, coarsely chopped

Directions
1. Heat 1 tablespoon of oil and 1 tablespoon butter in a heavy large skillet over medium-high heat.
2. Add the veggies, onion, and garlic and saute until the veggies are tender, about 10 minutes. Season with salt and pepper.
3. Remove from the heat and cool slightly.
4. Stir in the Parmesan.
5. Season beef with salt and pepper.
6. Using 2 tablespoons for each, divide the veggie mixture among the beef slices. 6. Roll up the beef slices to enclose the filling, tucking in the ends. Secure the rolls with toothpicks.
7. Heat the remaining oil and the remaining tablespoon of butter in the same large frying pan over medium-high heat.
8. Dredge the beef rolls in flour to coat lightly.
9. Add the beef rolls and cook until brown on all sides, about 8 minutes.
10. Add the wine and stir to scrape up any browned bits on the bottom of the skillet.
11. Add the tomatoes with their juices and the bay leaf. Cover and simmer until the beef is cooked through, about 5 minutes. Transfer the beef rolls to a platter.
12. Remove the toothpicks, then cover the beef rolls with foil to keep warm.
13. Add the peas and prosciutto to the sauce in the skillet and stir until the peas are heated through and the sauce reduces slightly, about 5 minutes.
14. Season the sauce, to taste, with salt and pepper.
15. Drizzle the sauce over the beef rolls and serve.



NOTE*:

You may substitute wine with chicken broth, if preferred. As for the veggies, I didn't have zucchini on hand, so I just used carrots and green bell pepper and adjusted the amount accordingly .