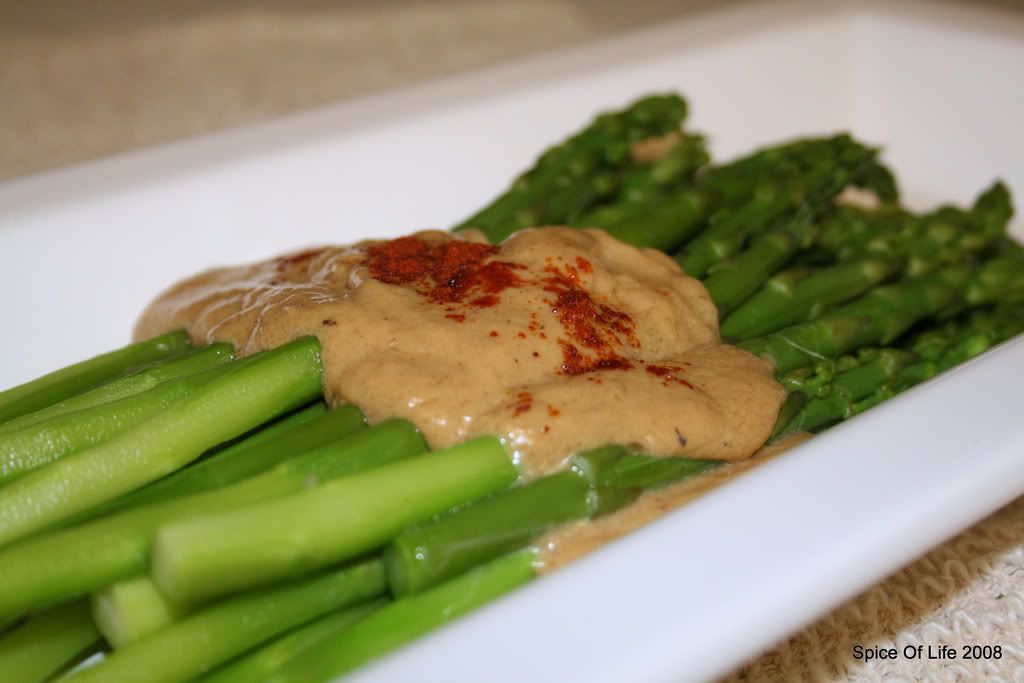 Friends, I have really been remiss in keeping my blog up to date. For this, I apologize. I didn't expect for the year 2009 to become as busy as I am now. But I'm not complaining. I like to be busy but I am in that period where I am still adjusting, trying to juggle my time in the hope of achieving a proper balance, so that I'd have time left to upload photos and write my blogs. So, please be patient with me.

I'm sure everyone agrees that food blogging is time consuming - the cooking, the photography set-up, shooting, uploading and then writing.. all these require a chunk of our time.

Then, there are times when your food has been photographed and uploaded, and yet you stare at the computer screen not knowing what to write about. Have you had that exprience? I'm sure you did. Isn't that frustrating?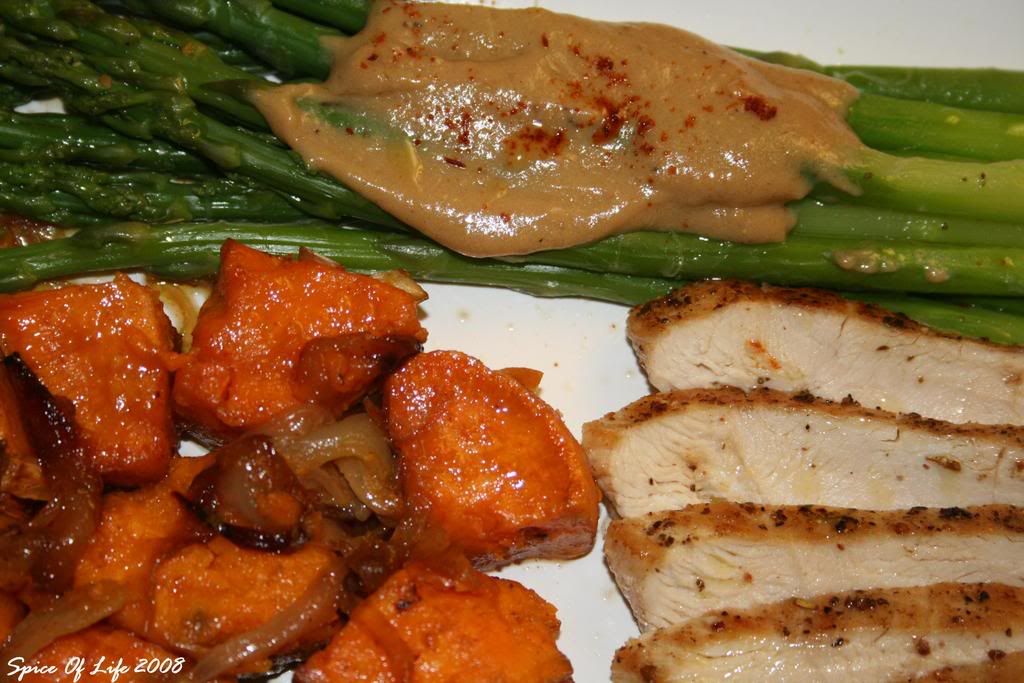 Anyway, enough of my venting.

This week's Lasang Pinoy's theme is STEAMED. I have done

Siomai

(pork wanton dumplings) and Siopao (steamed buns) before so I can't post that here anymore. But, I do steam a lot - my veggies, especially. I prefer steaming because we all know that it is much healthier to do so, than blanching them in hot water. Steaming preserves more the vegetables' nutrients.

One of the favorite veggie I steam is Asparagus. I do like to roast them too, but since steaming is quicker, then I steam it most of the time. It is an excellent side dish to any entree you have, be it pork, fish or poultry.

As you can see here, I served the asparagus with roasted sweet potatoes ("kamote", as they're called in my native tongue) with caramelized onion, and chicken breasts simply roasted with extra-virgin olive oil, salt, pepper and herbs de Provence. This is a meal that is straightforward, but healthy and satisfying.
This my entry to Lasang Pinoy Sundays: Steamed.
Lasang Pinoy

is weekly food photography meme, Filipino style.


Imperial Asparagus (serves 4)
2lbs of green or white asparagus, steamed
3 tablespoons of butter
3 tablespoons of flour
1 cup chicken stock
1/2 cup white wine
4 tablespoons heavy whipping cream
dash of hot sauce or ground cayenne pepper (optional)
salt and pepper
pinch of sugar

1. Trim the asparagus and peel the stalks to the tips.
2. Steam asparagus for 5-7 minutes (depending on how you like them. I like them crunchy still so I don't leave them that long)
3. Make the sauce. Melt the butter in a heavy based pan, in medium high heat.
4. Lower heat heat and stir in the flour. Stir with a wire whisk, for 1 minute to cook the flour a bit.
5. Gradually add the white wine and the stock. Stir until smooth then place over a low heat. Bring to the boil stirring constantly, until sauce thickens.
6. Add the cream and a dash of ground cayanne pepper, if preferred.
7. Now add the salt and pepper and a pinch of sugar, to taste.



Note*:

My sauce didn't come out white because I cooked it in the same pan where I cooked my chicken, so I can have the chicken flavor in it. But if you've have guests, you might want to cook the sauce in a clean pan, so your sauce can come out white as it should be. Also, I added cayenne pepper because I wanted the kick. And lastly, I also added a dash of sweet paprika on top, as garnish.