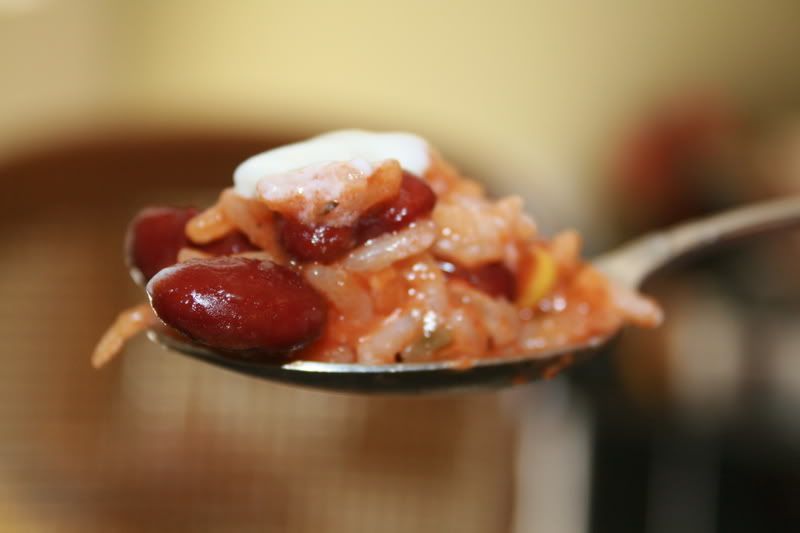 Thats right, I'm hijacking the Foodie Blog...hahaha.

This week there's a guest blogger in the house. Hmmmmm, who could it be?
Me, of course...Well my name is Joe and I am the husband of the best-lookin' filipina chef. Since I'm on vacation for a few weeks, I will be relieving her from most of her cooking & blogging responsibilities. Before you shriek at the thought of me in the kitchen, I will have you know that I do have about 15 years experience in most aspects of the restaurant business, with many of those years spent cooking and preparing tons of food.

Anyway, (((sinister laugh))) I get to finally be creative in the kitchen and blog about it here! F.Y.I., I know this may seem hard to believe, but my wife and I have been married now for 6 years this month (Apr.20) and she has never stopped to complain about cooking for me. She faithfully prepares my breakfast, lunch, and dinner and takes great pride and is joyful when I give her the thumbs-up on her culinary creations. (Very few thumbs-down, btw). Just so you know, I do cook sometimes, and try to help her out as much as possible around the house to show my appreciation for her taking care of me, so be kind to me, please, in your comments, LOL.

Her previous cooking experience was cooking her own native filipino dishes, under the direction of her mother. Since we got married, Jescel's culinary skills have grown immensely by cooking for me and our friends, watching the food network, and catching the food-bug as we get together for dinner with others and asking lots of "How did you do that?" type questions. You go girl!

She has learned so much and is so passionate about food now... How could my stomach ever refuse to let her cook??? Just having Food Network on in the house is a blessing, because we can eat more than just rice! Yehey!

Some co-workers have told me, "Oh wait a year and she'll stop cooking for you" or "You keep eating like that and youre going to get fat". Most of the time my wife prepares food that is not diet oriented, but is substantially healthier than what I could get elsewhere. To see guys drool every morning at what my wife made for me is its own sweet reward --LOL. I know she doesn't hear this nearly enough from me, but "Thank you for taking great care of me... I love you!"

This week I made my own creation, inspired by spanish rice that is good enough to eat as a light lunch, or the next day as the stuffing for a vegetarian, southwest style burrito -MMMMMM..
MMMMM....
.
Spanish-Style Rice Ala-Joe
(serves 4 people)
2 cups cooked jasmine rice

3 cups water
pinch of salt
1/2 green pepper, diced
1/2 med onion, diced
2 tbsp olive oil
dash of salt & pepper
2-3 cloves garlic
1 can diced tomatoes (15 oz)
1/2 c tomato paste
1 tsp dried oregano
splash of Merlot wine
1 can red kidney beans (15 oz)
handful of yellow corn kernels
dollop of lite sour cream
1. Bring to a boil the water, add a pinch of salt; add in the jasmine rice, stir and then reduce to simmer for 20 mins.
2. In the meantime , heat olive oil in the pan and saute onions, green pepper until soft. Add a dash of salt and pepper, and then add the garlic. Saute for 1-2 mins, followed by the diced tomatoes and tomato paste to thicken the sauce. Stir until completely incorporated.
3. Then add a pinch of red-pepper flakes for heat,some sea-salt and fresh-gound black pepper to taste, dried oregano and a splash of merlot. Simmer for several minutes more, then remove from heat.
4. Once the rice has cooked, add this to the sauce and mixed it all together. Let mixture cool for a few minutes, then add the red kidney beans (for protein), some yellow corn (for crunch), and voila! It is now ready to serve.


My wife was a little late coming home for lunch, so I began plating and served this with a dollop of lite sour cream and that's all. It made for a very light and nutritious lunch. I knew my wife would like it simply because it had rice
(that Asian thing, you know :OP ).

But wait, thats not all. Like I ALWAYS tell my wife, most things that are mixed together like soups, sauces, gravies, etc... are so much better the next day! So, I took my day old, nuevo spanish rice cuisine, and upgraded it for lunch today. I took the leftovers from the 'fridge and scooped enough for the two of us, mixed in
2 tablespoons sour cream,
some smoky paprika,
couple dashes of green tabasco sauce
and heated that up and used that as filling for a sun-dried tomato(flour)-wrap burrito laced with italian-blend of cheese melted on the inside as well as the outside. It was very filling as my wife was unable to eat it all.
Maybe it was the breakfast I made for her that filled her up? This dish was really simple to make and is flexible enough to be used a few different ways on a few different days.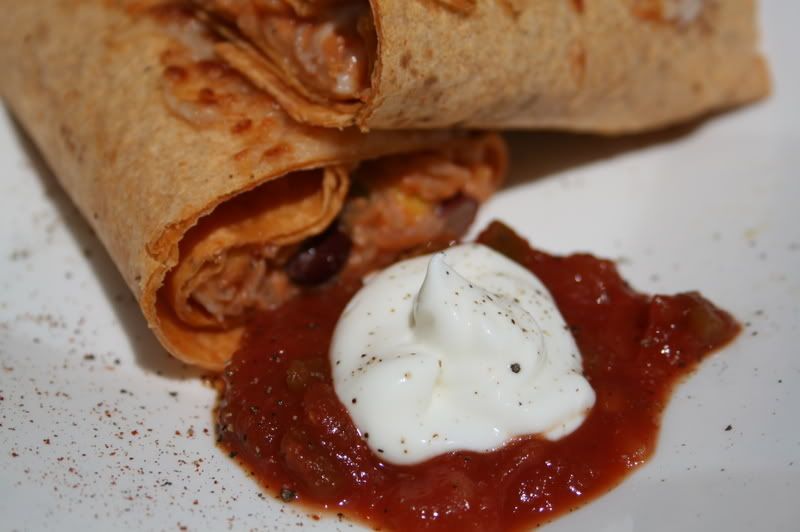 Let us know what you think, ok...and if you've found any different uses for this, too.
Until Later, The Mystery Chef :o)