Restaurant menus, most of the time, have dishes under the appetizer section that are enough to serve as an entree, for me that is. And I do order those appetizers as my main meal once in a while, especially when I am trying to save enough room for dessert later.. ;o).
The dish I have here is actually meant as an appetizer,usually served as is, or with bread. But to have it for our dinner, I had to pair it with something substantial. So I served the scallops with pasta in alfredo sauce.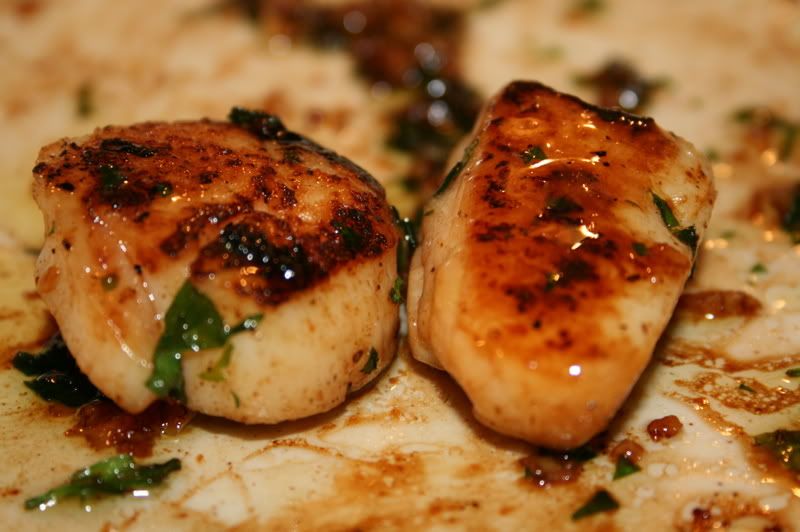 Seared Scallops With Parsley And Garlic
1 lb bay scallops (or 16 large scallops)
1/4 teaspoon salt
1/4 teaspoon freshly ground black pepper
2 pcs anchovy fillets
1-1/2 tablespoons olive oil
2 tablespoons butter
1/4 cup chopped fresh flat-leaf parsley
1 teaspoon lemon zest
1 tablespoon lemon juice
2 garlic cloves, minced
1. Sprinkle scallops with salt and pepper.
2. Heat oil in a large non-stick skillet over medium high heat.
3. Add scallops, saute 2-1/2 minutes on each side or until browned. Set aside and keep warm. Repeat procedure with the remaining scallops. Wipe pan clean with paper towel.
4. Add butter to pan; reduce heat. Add anchovies and cook, stir until fillet has dissolved and melded into the butter.
5. Stir in garlic and parsley. Cook 15 seconds. Return scallops to pan. Toss to coat. Remove from heat and add lemon zest and juice.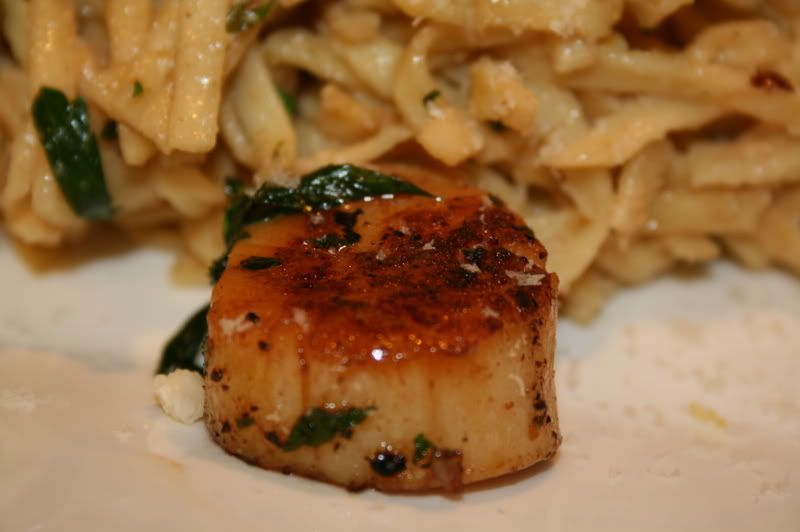 I used my favorite bottled 3-cheese alfredo sauce with garlic for the pasta.
NOTE:

To perfectly brown scallops, I suggest that you cook them in batches. Add the scallops a few at a time so that the pan will not lose heat. Wait until the oil is hot (when you see ripples in the pan), then add the scallops - do not move them anymore until it is time to flip. The key to browning the scallops is - patience!.