Contrary to popular belief, the fruit that Adam ate in the garden of Eden was not apple but mango. Because when God found out that Adam ate the apple at Eve's prompting, God was so upset He told them "man..go!" Wha-ha-ha-ha..

Ok, this is my corny joke for the day and I hope this won't prevent you from reading the rest of this post. I can assure you, this cake is waaaaay better than the joke.. truly mangolicious!
If there was one thing that I miss most in the Philippines gastronomy-wise, on the top of my list would be the mangoes. Philippine mangoes are small, yellowish-gold in color when fully ripe and very, very sweet both in smell and taste. The flesh is tender, juicy and not fibrous like the bigger varieties most common here in Miami.

Last Saturday, one of my Filipina friends gave me some mangoes to my delight. It's the variety (I believe from Mexico) that comes close to the one we have in the Philippines. I knew immediately what I was going to do with them.. some kind of a mango ice-box cake that I used to make a lot when I was in the Philippines.
But then, when I was browsing through some food blogs, I came across a post of

novice-baker.blogspot.com

, which inspired me to do this cake. I got her recipe, and combined with 2 other recipes I have, I came up with my own version.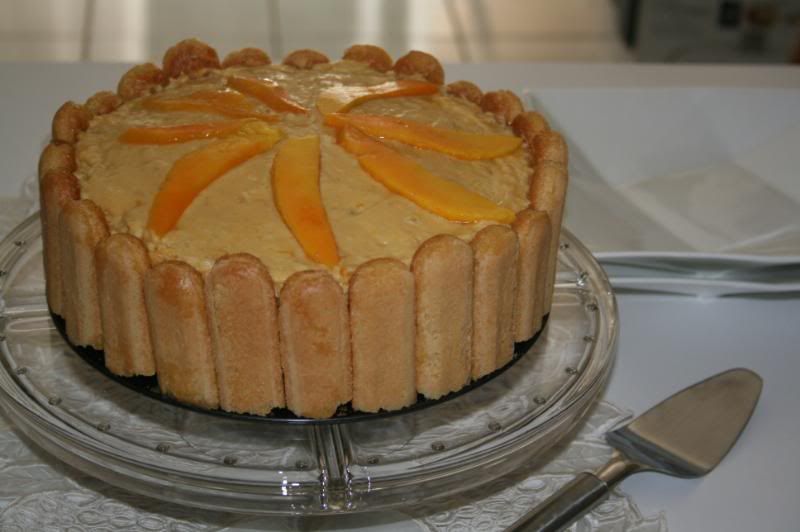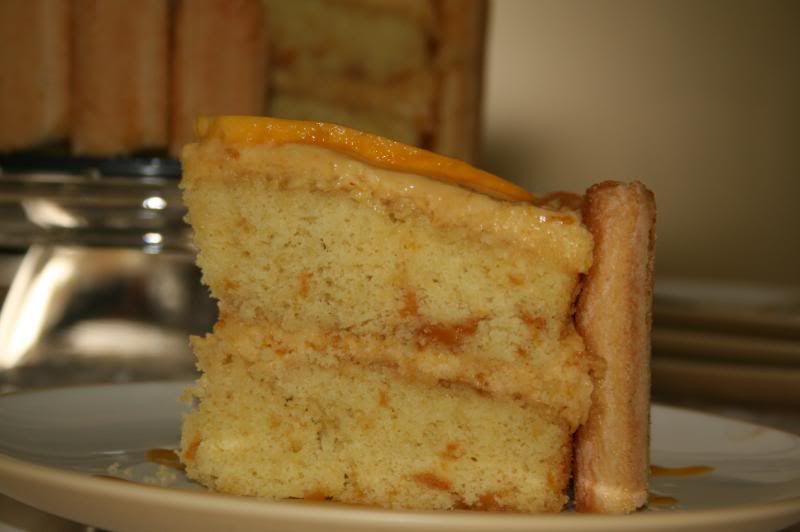 Mango Cream Cake
Cake
2 cups cake flour (you may use all-purpose minus 2 tbsps per cup)
2 tsp baking powder
1 tsp baking soda
1-1/4 sticks (3/4 ) unsalted butter, room temperature
1 cup sugar
4 large eggs
3/4 sour milk or buttermilk
3/4 tsp vanilla
3/4 tsp mango extract (optional)
1 cup chopped, stewed mangoes

Filling
1 cup heavy whipping cream
1 cup chopped mangoes, stewed
1 cup mango stew liquid
1 cup chopped, stewed mangoes
2 packs unflavored gelatin powder (recommended, Knox)
1 cup butter
1/2 cup sugar

Topping/Decoration
Set aside 1/2 cup of the filling above
2-3 tablespoons condensed milk
1/4 cup mango puree (from the stewed mangoes)
Fresh mango slices
1 pack Lady Fingers, for lining

Stewing
3 cups mangoes, chopped (about 1 lb, roughly4-5 pcs depending on size)
1-2 cups water
1/2 tsp salt
2-1/2 cups sugar (reduce amount depending on how sweet you want it)

1. Stew mangoes. Combine all the ingredients and cook in high heat, stirring frequently, until thick and clear. Let it rest and cool off.
2. Pre-heat oven to 350 F. Butter two 9x2 inch round cake pan, dust the inside with flour. Shake excess off. Line bottom with parchment or wax paper. Set aside.
3. Sift together cake flour,baking powder, soda and salt.
4. In a large bowl, cream together butter and sugar till fluffy.
5. Add eggs one at a time and beat well after each addition. Beat in vanilla and mango extract (increase amount of vanilla if you don't have vanilla extract).
6. Reduce mixer speed to low and add dry ingredients alternately with sour milk. (Add the dry ingredients in 3 additions and the milk in 2, beginning with the dry ingredients). Mix only until ingredients are incorporated.
7. Fold in stewed mangoes.
8. Divide batter between the prepared pans and bake for 25-30 minutes, or until toothpick inserted into the center of the cake comes out clean. Rotate the pans halfway through the baking time.
9. Transfer cake to a rack to cool off. When cool enough to be handles, run a thin knife around the sides of the cake, invert pan and carefully unmold, peeling of the paper liners. Cool further to room temperature.

While cakes are cooling off, make the filling:
1. In a microwavable bowl, combine the stewed mangoes and the liquid. Add 2 packets of gelatin powder. Microwave in 30 seconds or until gelatin solution dissolved and turns clear. If mixture is thick, add more stewed liquid. Let it cool.
2. In a separate bowl, beat whipping cream until stiff.
3. Fold in whipping cream to the mango-gelatin mixture, carefully and lightly.
4. Set aside 1/2 c of the mixture for topping.


To assemble:
1. Place 1 layer of cake at the bottom of a 9-in spring form pan. Brush top of the cake with the syrup from the stewed mango. (I also tried flattening out the top of the bottom cake layer , as you can se in the photo).
2. Pour the mango cream mixture on top of the cake. Add mango slices, on top if you wish.
3. Brush one side of the lady finger (cut according to height of the pan) with the mango stew syrup and line them on the side of the ring. Brushed side inwards.
4. The put the second layer of cake on top. Repeat procedure #1.
5. For topping, get your reserved 1/2 cup of mango cream and to it add the condensed milk and mango puree. Mix.
6. Pour on top of the cake. Decorate with mango slices.
7. Chill overnight before serving.

*** Note: The mango stew is all an estimation of mine. You may or may not end up with more syrup than required. Also, you may substitute mango with prunes.