One of the challenges of cooking in the middle of the week is making something that is simple, quick and yet packs a lot of flavor. And for us, grilling - steak in particular - is the way to go.
My hubby's most favorite cut of steak is rib-eye, but this time, I ventured into something that we don't usually do - flank steak. I was aware that doing this particular cut would be a challenge as this cut yields a tougher meat, but I really wanted to get acquainted with this part of the cow...hahaha.
My inspiration came, once again from Cooking Light magazine. I was intrigued by the chile relish and so I decided to try this recipe. And we were not disappointed. The flavors of this dish are so good. Though if you ask me, I'd rather use the skirt steak (churrasco) than the flank...there I said it... I am now convinced that flank is better used for stewing/braising, but not for grilling.
So if you try this recipe (which I hope you would), get the skirt steak. This dish is very good - simple enough for a weeknight dinner but yet, very tasty that you can even entertain with it.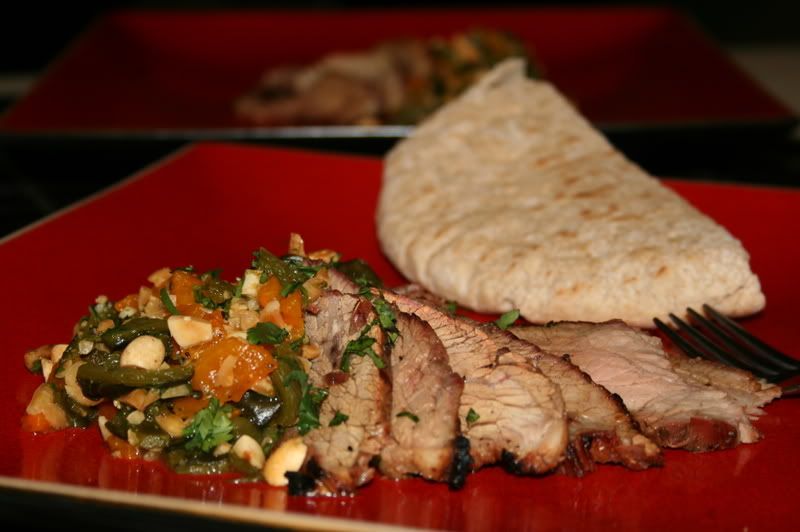 Steak
1 tbsp brown sugar
2 tsp salt
1 tsp ground cumin
1/2 tsp five-spice powder
1/4 tsp ground ginger

1 (2-lb) flank steak, trimmed
cooking spray

1. Prepare grill
2. To prepare steak, combine sugar and next 4 ingredients (thru ginger) in a small bowl. Sprinkle steak with sugar mixture.
3. Place steak on a grill rack coated with cooking spray. Grill 6 mins. on each side or until desired degree of doneness.
4. Cut steak across grain into thin slices.
5. Serve with relish and toasted pita.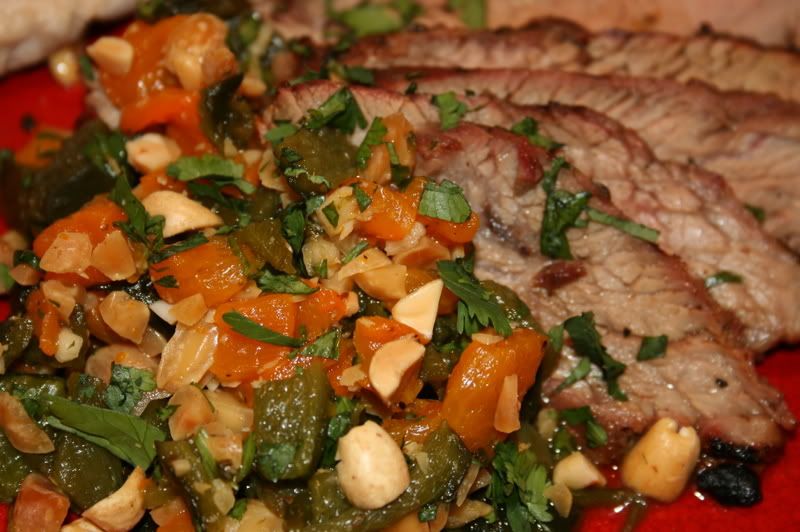 Relish
2 poblano chiles
1 orange bell-pepper
1-1/2 tbsp chopped dry-roasted peanuts
1 tbsp chopped fresh cilantro
1 tbsp seasoned rice wine vinegar
1/4 tsp salt
1/4 tsp freshly ground black pepper
1 garlic clove, minced

1. Pre-heat broiler.
2. To prepare relish, cut chiles and bell pepper in half lengthwise; discard seeds and membranes.
3. Place halves, skin side up, on a foil-lined baking sheet, flatten with hand.
4. Broil 15 mins or until blackened.
5. Place in a zip-top plastic bag; seal. Let stand for 15 mins.
6. Peel and chop.
7. Combine chiles, bell pepper and next 6 ingredients (thru garlic) in a small bowl; toss well. Set aside till steak is ready. Serve with steak.