I don't consider myself a coffee drinker, per se. What I mean is, I'm not a heavy coffee drinker, somebody who consumes 10-12 cups a day. Uh-oh. I'm what you maybe call a light coffee drinker. One good cup a day, preferrably for breakfast, is enough for me.
Why am I talking a about coffee? It's because I have here something which is best enjoyed when accompanied with a good cup of coffee - regular or espresso. It could also be served as dessert, accompanied by a good italian wine, vin santo.

For those of you who don't know,

"biscotti"

(singular, biscotto) is an Italian word meaning, twice baked. The Italians during the medieval period baked their biscuits twice so that they could be stored for long periods of time, which was especially important during journeys and wars.
Now the transition from medieval Latin times to the modern period and how the biscuits then became cookies now, I have no idea. I will tell you about it when I'll find the history. But for now, I am thankful to whoever came up with this ingineous idea.
Being twice-baked, biscotti are crisp, and with their elongated shape, they are perfect for dunking in your coffee, or wine, whichever the case may be.

Biscotti is one of my favorite go-to sweets. It is simple to make - almost fool proof. There are so many variations to the flavors of this cookie, but what I prefer the most is the traditional one -- biscotti with chocolate and anise. And this is what I have here for you. Hope you try it.
The cookie logs after the first bake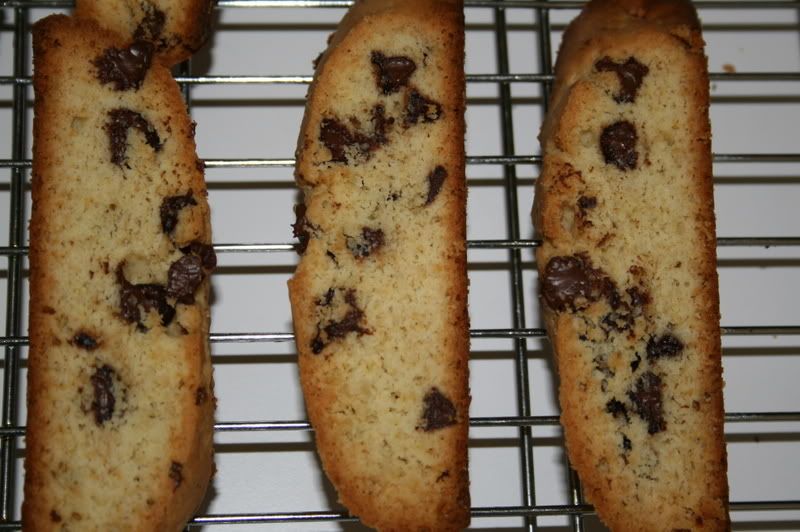 The biscotti cooling off after the 2nd bake
Chocolate Anise Biscotti
2 cups all-purpose flour
1 1/2 teaspoons baking powder
1/4 teaspoon salt
3/4 cup sugar
1/2 cup (1 stick) unsalted butter, room temperature
2 large eggs
1 teaspoon ground anise seed
1 cup semisweet chocolate chips

1. Preheat the oven to 350 degrees F.
2. Line a heavy large baking sheet with parchment paper.
3. Whisk the flour, baking powder, and salt in a medium bowl to blend. Using an electric mixer, beat the sugar and butter in a large bowl to blend.
4. Beat in the eggs 1 at a time. Add the flour mixture and beat just until blended. Add the ground anise seed and mix well. Stir in the chocolate chips.
5. Form the dough into a 16-inch-long, 3-inch-wide log. Transfer the log to the
prepared baking sheet. Bake until light golden, about 30 minutes. Cool 30 minutes.
6. Place the log on the cutting board. Using a serrated knife, cut the log on a diagonal into 1/2- to 3/4-inch-thick slices.
7. Arrange the cookies cut side down on the baking sheet. Bake the cookies until pale golden, about 15 minutes.
8. Transfer the cookies to a rack and cool completely.