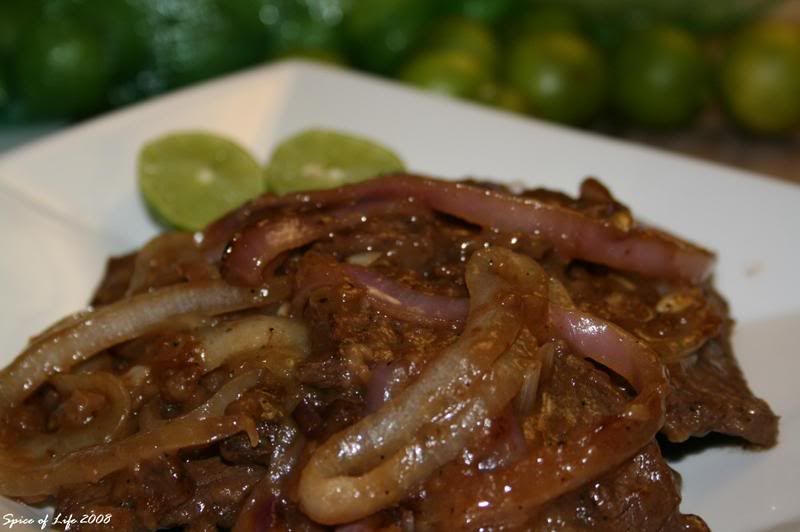 Filipinos in general, like the rest of the Asian countries, are not heavy meat eaters. Most of our dishes are prepared with lots of vegetables or noodles in them. Or, when we eat meat, we eat a matchbox-sized piece with lots of rice. (Yes, we love rice. We eat it for breakfast, lunch and dinner, and yet, most Filipinos are petite. So rice really cannot make one fat!)

I can only attribute the way we eat to the Philippines being a third world country, that is, poor. Majority of the people cannot afford to have meat dishes on a daily basis. For a famiy of seven (the average size of a Filipino family), the meals can become real costly. Thus rice, vegetables and noodles are thrown in to extend the dishes and make a big meal out of a little piece of meat.
As for my family, this dish was one of our Sunday lunch tradition. This happens to be one of my Dad's favorite, so my Mom prepares this for him. This is called "bistek", or the Filipino-style beef steak. It is not like the steak that you would think it to be here in the U.S. They're smaller pieces of beef sliced thinly and marinated in "kalamansi" (key lime), soysauce, garlic, salt and pepper. Some say, "bistek or bistec" refers to the Hispanic style of cooking a dish with a sauce. This is most probably true, considering that our culture is heavily Hispanic-influenced.

I remember hating this dish when I was younger because I didn't like the pieces of the meat that get stuck in between my teeth. I would be crying by the end of our dinner. But thankfully, this is not the case anymore. In fact, this has become one of my favorite Filipino comfort food.

Now that my Mom has passed on to be with the Lord, this dish brings back loving memories of her and my family as I was growing up.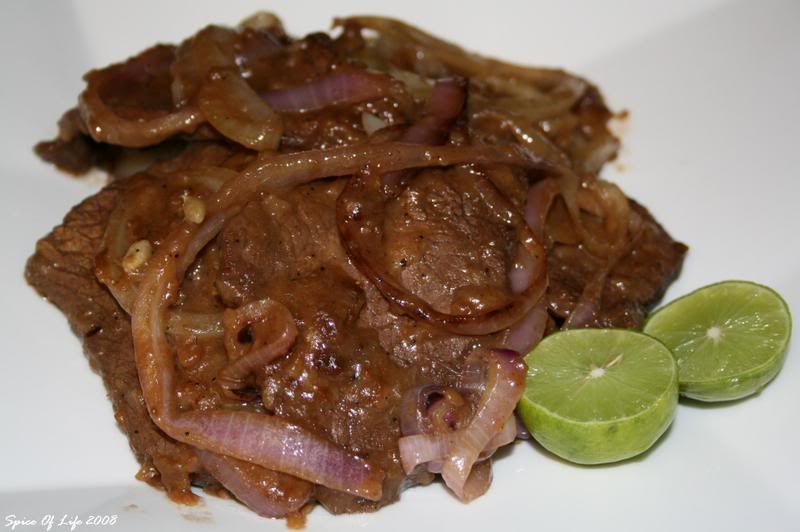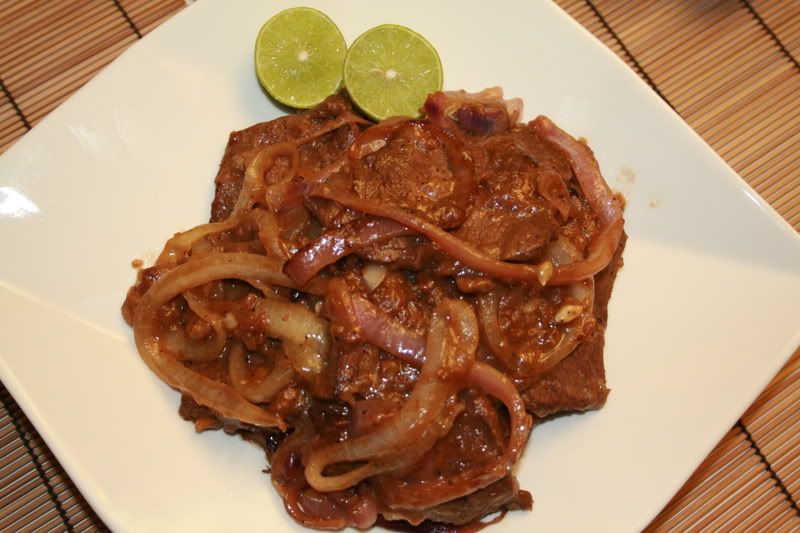 Pinoy Bistek
1 lb. beef (round, sirloin or tenderloin), sliced 1/4-inch thick
6 tbsp. of kalamansi (key lime) juice
1/2 c. dark soy sauce
3 tsp. garlic, minced
black pepper, freshly ground
2 large onions, sliced into rings (I used red onions)
2 tbsp vegetable cooking oil, or more if needed
flour, for dredging

1. Slice the beef. Take a piece of plastic wrap and cover the meat. Pound the meat mallet or a heavy skillet. Do this carefully so as not to tear the meat. (This is to ensure that the meat would be tender, but you can skip this step).

2. In a bowl, mix the next 4 ingredients (from the kalamansi juice thru pepper). Mix well and let the meat marinate in it for at least 30 minutes. (My opinion, the longer the marinating time, the better the meat tastes)

3. When ready, bring a heavy skillet up to temperature. Add the vegetable oil. Fry the onions lightly, just until tender. Remove from skillet and keep warm.

4. Take the meat out but reserve the marinade. Dredge the meat lightly with flour, carefully shaking off the excess.

5. Add oil to skillet and heat until smoking. Pan-fry the meat until brown (in batches if you have to). When the beef is done, add the marinade into to the skillet and let it boil for a minute or two. Then add the beef back into the skillet. Mix until all pieces are coated well with the sauce. Add the fried onions. Simmer for another minute or two.

6. Serve immediately with white rice. Enjoy.