Spaghetti being made from worms????? That is sooo not true!!!

Well, if I was told this information today, this exactly would be my reaction. But as a young and innocent kid, I somehow picked up a rumor from school that spaghetti (meaning the pasta) are made of worms. And not knowing any better, this false information naturally affected my behavior towards spaghetti and I grew up not liking this dish at all.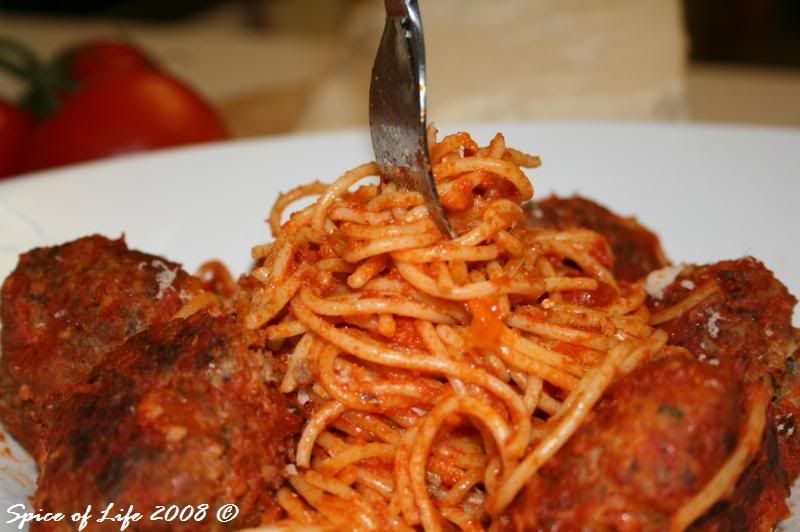 But thank God this dislike did not stay with me forever. As I grew a bit older, I came to know more about food, and I discovered that spaghetti is pasta that is made from wheat/semolina flour, and that it is one of the most popular Italian dish all over the world. Information is indeed power, and armed with the knowledge and new determination, I overcame my aversion to spaghetti so much so that it is now one of my favorite comfort food.


Growing up in the Philippines, spaghetti is not considered an everyday dish. It is a viand reserved for special occasions, such as birthdays. Mind you, where I come from, most folks still eat spaghetti with rice... True story! No meal in my homeland is complete without rice, so people eat rice even with noodles and/or pasta.
Anyway, someone from my office brought spaghetti for lunch a few days back. When warmed in the microwave, the smell of spaghetti just permeated my office, and apparently, my brain as well. Eversince, my brain has reminded me constantly of that
rich, meaty spaghetti sauce that I inhaled at the office… Finally, I had to concede for my own peace's sake - I just gotta make my own Neapolitan spaghetti with meatballs. My brain dictated and won. It's really mind over matter, huh?
Spaghetti With Meatballs
1/2 lb spaghetti
Salt, for pasta water
1 bottle of your favorite store-bought marinara sauce (or you can make your own if you've the time)
Meatballs:
1-1/4 lbs ground sirloin
2 tsps Worcesteshire sauce
1 egg, beaten, plus Eggbeaters measure equivalent to 1 egg
1/2 cup grated Italian bread crumbs
1/4 cup grated parmesan cheese (or romano), and more for topping
1/4 cup onion, minced
3 cloves garlic, minced
3 tbsp parsely, minced
1/4 tsp dried oregano
1 tsp lemon zest, grated
pinch of red pepper flakes
1 tbsp unsalted butter, for browning meatballs
Olive oil, fro browning meatballs
1. Preheat oven to 350 degrees F.
2. In a bowl, mix Worcestershire sauce and the next ingredients through red pepper flakes.
3. When thorougly mixed, add ground meat. Mix with hands just until ingredients are incorporated. Do not overmix.
4. Roll meat into 1-2/2 inch sized meatballs (or any size you like. The smaller it is, the quicker it cooks.) Set aside.
5. In the meantime, heat a deep oven proof skillet over moderate heat. Add butter and olive oil (2 turns around the pan, approx). When oil is hot, add the meatballs. Saute them until brown on all sides.
6. While browning meatballs, on another pot, bring to boil your marinara sauce. When boiling, lower heat and let it simmer while waiting for the meatballs to get ready.
7. When meatballs are brown, time to add your hot marina sauce into the pan. Sauce should cover the matballs a little more than halfway.
8. Transfer the skillet to the oven and bake for 30 mins.
9. While meatballs are baking, in another pot bring water to a boil. Cook pasta as directed or until al dente (firm to the bite). Drain. You should start doing this so that the pasta cooks at the same time as the meatballs are done.
10. Add the pasta to the meatballs. Mix and serve spaghetti with grated parmesan cheese on top, if preferred.