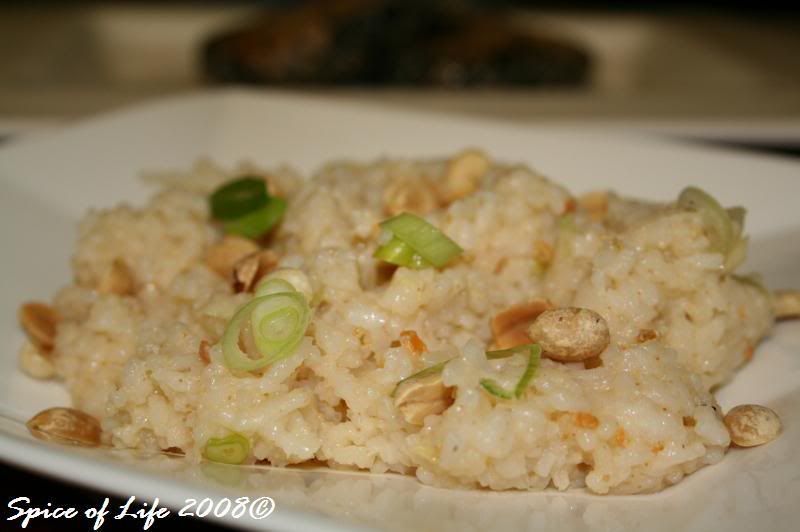 This is the rice that I served with my

Sesame-Crusted Tuna With Roasted Cipolline Onions

.

I normally prefer just plain, white rice because I don't want the rice to compete with whatever I am eating it with. But in this case, the rice is the perfect accompaniment to the tuna dish. I might be biased though, because I love Thai food.
Anyway, you can use those boil-in-a bag long grain rice that you can buy in the grocery. But as for me, I prefer to cook the rice myself. As an Asian, it would be a shame for me to use those boil-in-a bag stuff. And even if I'm feeling lazy- I still got the hook-up -- rice cooker, baby!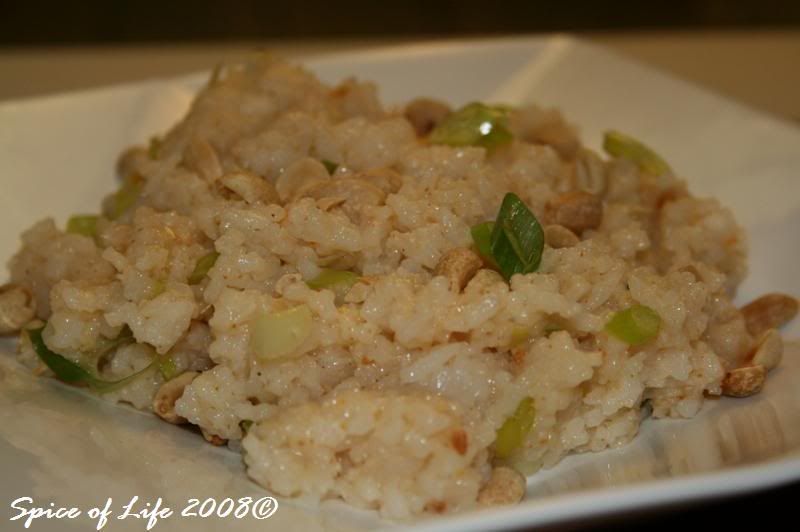 4 cups rice, cooked (I prefer Jasmin or Basmati)
1/4 cup sliced green onions, plus 1 tbsp for garnish
2 tbsp Thai peanut sauce

*
2 teaspoon fresh ginger, minced
Roasted peanuts, for garnish
1. Cook rice according to direction, ommitting salt and fat.
2. Stir in onions, peanut sauce, ginger and salt.
3. Garnish with additional green onions and roasted peanuts. Serve warm.
*NOTE:

You can increase amount of Thai peanut sauce according to your liking. If you don't have the bottled peanut sauce, you may mix 2 tbsp of creamy peanut butter with 1 tbsp soy sauce, 1 tsp garlic powder, 1 tsp hot sauce, 1 tsp lime juice. Mix thoroughly and add to rice.