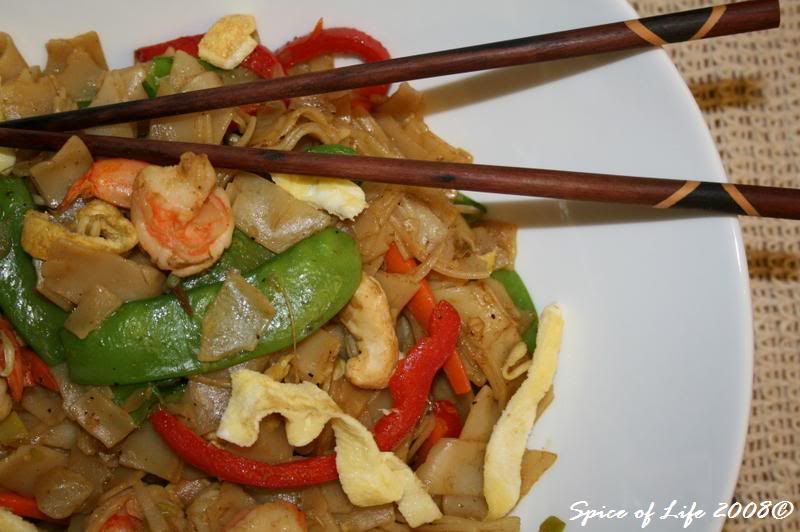 Well, it seems like I've been giving you a tour in Far East with my Asian-themed dinners recently. Believe me, this wasn't planned at all. It just happened. What can I say, I'm originally from the Philippines, therefore, I'm Asian by race.
Growing up in the Philippines has naturally exposed me to the varied kinds of Asian noodles, mostly Chinese. One of the earliest settlers in the Philippines are the Chinese, and so you will notice that there's a huge population of Chinese-Filipinos in our country. Consequently, Chinese cooking has made a huge impact in our cuisine. I would say that the food and spices are among the best legacies of the early Chinese settlers in my homeland.
Anyway, this time I am doing the Singapore Mai Fun or the Singapore rice noodles. (I've been to Singapore three times, and I believe this is one of the cleaner, if not the cleanest country in the whole wide world). This noodle is unique, in that it calls for curry powder. If you love curry like I do, then this is for you.
This dish is pretty healthy too.Traditionally, this is done with skinny rice noodles, but I have the flat/wider kind in my pantry so I used that instead. But if you want to try this recipe, I suggest you use the skinny ones. That way, your dish would look more like the traditional one.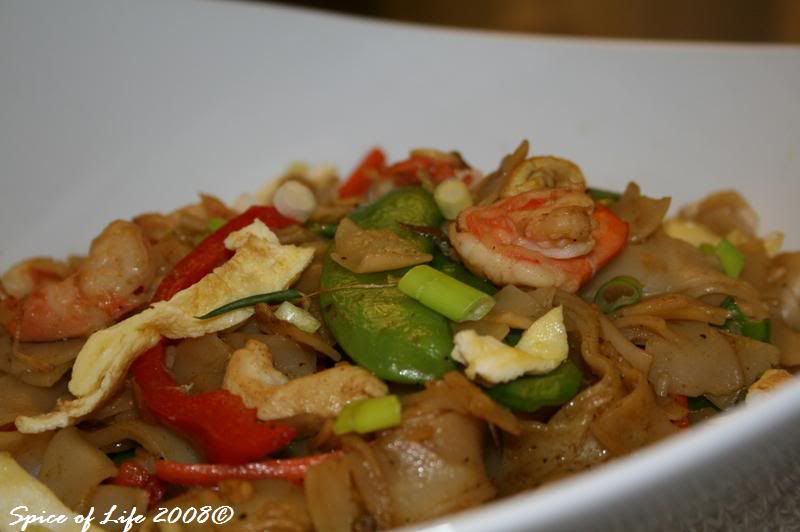 Singapore Mai Fun
1 (6 oz) package skinny rice noodle ( I used the flat/thicker one as I said above)
1/2 cup chicken broth

*
3 tbsp low sodium soy sauce

*
1 tsp sugar
1/2 tsp salt
Cooking spray
1 tbsp peanut oil

*

, divided
1 large egg

*

, lightly beaten
1/2 cup red bell pepper, sliced into strips
1 tbsp grated peeled fresh ginger
1/4 tsp fresh ginger, peeled and grated
1/4 tsp crushed red pepper
3 garlic cloves, minced
1-1/5 lbs skinless, boneless chicken breast thinly sliced
1-1/5 lbs med shrimp, peeled and deveined
1 cup snow peas
1 cup green onions, sliced into 1-inch
1. Cook rice noodles according to package directions. Omit salt and oil. Drain.
2. Combine broth, soy sauce, sugar and salt; stir until sugar dissolves.
3. Heat a large non-stick skillet (or Wok, if you have) over medium high heat; coat pan with cooking spray. Add 1 tsp oil. Add egg; stir fry 30 seconds or until soft scrambled, stirring constantly. Remove from pan.
4. Wipe clean the skillet. Heat the remaining 2 tsps oil in pan over medium high heat. Add bell pepper strips, snow peas, garlic and crushed red bell pepper. Stir fry for 15 seconds.
5. Add chicken and stir fry for 2 minutes, or until done.
6. Add curry and shrimp; stir fry for another 2- minutes.
7. Stir in noodles, broth mixture and egg. Cook 1 minute or until thoroughly heated. Sprinkle with green onions and serve.
*NOTES:
You may certainly use fat-free, less sodium chicken broth if you prefer. Reversely, you can use regular soy sauce instead of the low-sodium, but I suggest that you omit adding the salt. As for the egg, I used egg-beaters (egg substitute) in mine and it worked out well.